Welcome!
The Northeastern Wisconsin Chapter of the American Foundry Society, (AFS) is dedicated to the promotion of our industry through, education, motivation and innovation. With the strength and commitment of our members and supporters, we continually seek to improve all facets of this historical profession.
Getting involved...
When you join AFS, you become a member of one of the greatest and most historic trade industries in the country. Our local chapter holds regular monthly meetings which allow you to:
1. Network with others in our industry, socialize and build lifetime relationships.
2. Learn new technology and benefit from the experience of others.
3. Help shape the future of this great industry by serving on a committee.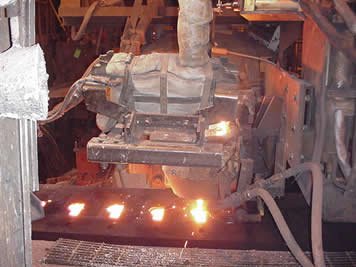 Click here for a membership application - Individuals

Click here for a membership application - Corportate

Corporate Members
A F K Corp
American Colloid Co
AP Westshore Inc
Brillion Iron Works
Brunswick Corp
C A Lawton Co
Eck Industries Inc
Grede - Berlin
Grede - Iron Mountain
Griffin Industries Corp


Mercury Marine
Neenah Foundry Co (A1501)
Precision Metalsmiths Inc
Premier Aluminum LLC
Rel Inc
Roloff Manufacturing Corp
Washburn Iron Works Inc
Waupaca Foundry Inc
Wisconsin Aluminum Foundry Co

Event Calendar
Chapter Dinner Meeting
09/14/15
Sara Joyce will be presenting the Hoyt Memorial Lecture


"Outstanding Quality Using Team Management"






Sara Joyce, vice president of quality and technical assurance at Badger Mining Corporation, received a Bachelor of Science in Environmental Science at the University of Wisconsin-Eau Claire.

Sara began her career with Badger Mining in 1984 as a lab technician in the Fairwater plant mine. In her 31 years at BMC she has held various positions including Statistical Process Control Team leader, Quality Control Manager and her current position.

Sara has been a member of AFS since 1992 and has served on many committees within Division 4. She has been a member 4H, green sand additives, 4m, green sand molding, 4A1, Publishing, 4C Awards, and was chair of Division 4. Currently she is serving as the chair of Division Council and is a member at large of 4A, the executive committee of Division 4. Sara is also a member of the AFS Northeast Wisconsin Chapter.

Sara has served in foundry industry in other organizations including the Casting Industry Supplier Association, where she was a board member and served as President. She was a board member for the Foundry Industry Recycling Starts Today (FIRST) and is on the Advisory Board for the University of Northern Iowa.

Sara has given numerous talks and lectures at industry events. She received an AFS service citation in 2004 , the Ezra Kotzin award in 2012, and has been a member of the Cope and Drag Club for many years.

Sara resides in Kingston, WI and has two children and three grandchildren.


more info...

Chapter Dinner Meeting
10/05/15
A representative of Hickman Williams will be our speaker this evening
more info...

Chapter Dinner
11/02/15
John Wiesbrick will be our speaker this evening
more info...

Chapter Dinner
12/07/15
Glen Gretta will be our speaker this evening
more info...

Chapter Dinner
01/04/16
more info...

Chapter Dinner
02/01/16
Rick Volk, United Refractories, will be our speaker this evening
more info...

Chapter Dinner - Student Night
03/07/16
This meting is our annual Student Scholarship Night
more info...

Chapter Dinner
04/04/16
A representative from Magma is tentatively scheduled to speak this evening
more info...


Message Boards
Mobile App
For mobile app feedback and discussion.

to read the message boards and add your own entries, log-in to the members area.