Welcome!
The Northeastern Wisconsin Chapter of the American Foundry Society, (AFS) is dedicated to the promotion of our industry through, education, motivation and innovation. With the strength and commitment of our members and supporters, we continually seek to improve all facets of this historical profession.
Getting involved...
When you join AFS, you become a member of one of the greatest and most historic trade industries in the country. Our local chapter holds regular monthly meetings which allow you to:
1. Network with others in our industry, socialize and build lifetime relationships.
2. Learn new technology and benefit from the experience of others.
3. Help shape the future of this great industry by serving on a committee.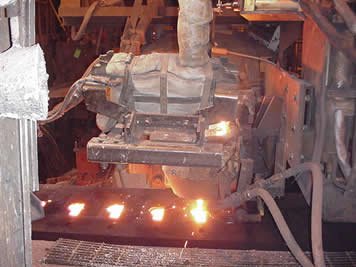 Click here for a membership application - Individuals

Click here for a membership application - Corportate

Corporate Members
A F K Corp
American Colloid Co
AP Westshore Inc
Brillion Iron Works
Brunswick Corp
C A Lawton Co
Eck Industries Inc
Grede - Berlin
Grede - Iron Mountain
Griffin Industries Corp


Mercury Marine
Neenah Foundry Co (A1501)
Precision Metalsmiths Inc
Premier Aluminum LLC
Rel Inc
Roloff Manufacturing Corp
Washburn Iron Works Inc
Waupaca Foundry Inc
Wisconsin Aluminum Foundry Co

Event Calendar
Foundry Industry High School Career Day
11/03/14
The NE Wis Chapter of the American Foundry Industry is hosting a Career Day to expose the High School students in our region to the foundry industry and the variety of jobs that are available within our foundries. If you are looking for employment right out of high school or after completing your degree, there is a good chance that one of our foundries has a position for you.



The metalcasting industry is the original 'green' industry. Recycling is the foundation of our entire casting process. The U.S. is one of the largest suppliers of metal castings in the world. Wisconsin has one of the highest concentrations of foundries.



Whether you are looking for a job out of high school or once you complete your degree, consider the Foundry. Listen to employees from our foundries as the talk briefly about their jobs and the functions they perform for the foundry. They will also discuss what qualifications are required for their position. Each of these employees will be available throughout the day to discuss their job functions in a small goup atmsosphere.



Several of our local foundries will also have tables at the event so that students may find out more about these companies in a one-on-one setting.



Not sure what a casting is, or how they are made? No Problem! We will have 'Casting in a Box' at this event. 'Casting in a Box' is a portable, demonstration casting system that will allow us to melt metal, pour it in to a mold and produce real castings.



At the conclusion, all attendees will receive a commemorative medallion that was cast by one of our member foundries.
more info...

Chapter Meeting
11/03/14
Supplier Nite and Chapter Dinner Meeting



This years Supplier Nite and Dinner meeting is at the Oshkosh Convention Center

2 N Main Street

Oshkosh Wisconsin



Supplier Tables will be available for general membership from 4:00pm - 6:00pm



Dinner will be at 6:00pm for this meeting.
more info...


Message Boards
Mobile App
For mobile app feedback and discussion.

to read the message boards and add your own entries, log-in to the members area.