Welcome!
The Northeastern Wisconsin Chapter of the American Foundry Society, (AFS) is dedicated to the promotion of our industry through, education, motivation and innovation. With the strength and commitment of our members and supporters, we continually seek to improve all facets of this historical profession.
Getting involved...
When you join AFS, you become a member of one of the greatest and most historic trade industries in the country. Our local chapter holds regular monthly meetings which allow you to:
1. Network with others in our industry, socialize and build lifetime relationships.
2. Learn new technology and benefit from the experience of others.
3. Help shape the future of this great industry by serving on a committee.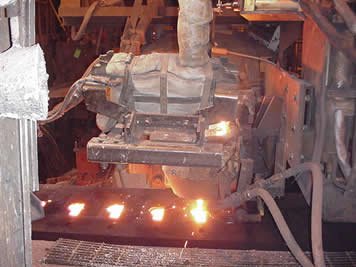 Click here for a membership application - Individuals

Click here for a membership application - Corportate

Corporate Members
A F K Corp
American Colloid Co
AP Westshore Inc
Badger Mining Corp
Brillion Iron Works
Brunswick Corp
C A Lawton Co
Eck Industries Inc
Grede - Berlin
Grede - Iron Mountain


Griffin Industries Corp
Mercury Marine
Neenah Foundry Co (A1501)
Precision Metalsmiths Inc
Premier Aluminum LLC
Rel Inc
Roloff Manufacturing Corp
Washburn Iron Works Inc
Waupaca Foundry Inc
Wisconsin Aluminum Foundry Co

Event Calendar
Chapter Dinner
12/07/15
"Past, Present and Future of Foundry Sand Reclamation"



Foundry Consultant Glen Greta will be our speaker this evening



Glen started in the foundry industry in 1961 as a foundry co-op student with Deere and Company, Moline, Illinois, while attending Iowa State College of Agriculture and Mechanics Arts, Ames, Iowa. He has performed every job in a foundry (core maker, molder, iron pourer, cupola tender, electric furnace operator, cleaning room chipper/grinder, maintenance mechanic, maintenance electrician, foundry engineer, metallurgist, supervisor, general foreman, superintendent, foundry manager, foundry owner (Stainless, High Alloy). He has a Bachelor of Science in Mechanical Engineering with a Minor in Metallurgy from Iowa State, 1964. He served three years in the Army Corps of Engineers from 1967 through 1969, trained as a combat engineer, but never saw combat in Viet Nam. Thanks to the G. I. Bill, he earned an MBA in Finance from Marquette University, Milwaukee, Wisconsin in 1974. He has extensive experience in insulating products and coatings, selling for FOSECO, No-Bake Binder Systems selling for Ashland Chemical, and teaching as a CMI instructor. He started developing mechanical and thermal scrubbing for sand reclamation systems for Wheelabrator-Frye in 1979. He has been a Foundry Design/Engineer/Consultant since 1999. He has designed and project managed two green-field foundry projects and one brown-field project since 2002. Glen is happily married to Penny. They each have two children from previous marriages, and six grand-children. Glen restores military vehicles from World War II as a hobby.


more info...

Chapter Dinner
01/11/16
Core Technology

Jesus Benavente from ASK Chemicals will be our speaker this evening
more info...

Chapter Dinner
02/08/16
Refractory Repair



Rick Volk, United Refractories, will be our speaker this evening
more info...

Chapter Dinner - Student Night
03/07/16
This meeting is our annual Student Scholarship Night



Presentations by our University Students will be emphasized this evening
more info...

Chapter Dinner
04/04/16
Solidification Modeling



Roy Stevenson, from Magma Technologies, is scheduled to speak this evening
more info...


Message Boards
Mobile App
For mobile app feedback and discussion.

to read the message boards and add your own entries, log-in to the members area.