Welcome!
The Northeastern Wisconsin Chapter of the American Foundry Society, (AFS) is dedicated to the promotion of our industry through, education, motivation and innovation. With the strength and commitment of our members and supporters, we continually seek to improve all facets of this historical profession.
Getting involved...
When you join AFS, you become a member of one of the greatest and most historic trade industries in the country. Our local chapter holds regular monthly meetings which allow you to:
1. Network with others in our industry, socialize and build lifetime relationships.
2. Learn new technology and benefit from the experience of others.
3. Help shape the future of this great industry by serving on a committee.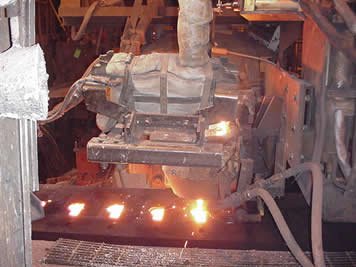 Click here for a membership application - Individuals

Click here for a membership application - Corportate

Corporate Members
A F K Corp
American Colloid Co
AP Westshore Inc
Brillion Iron Works
Brunswick Corp
C A Lawton Co
Eck Industries Inc
Grede - Berlin
Grede - Iron Mountain
Griffin Industries Corp


Mercury Marine
Neenah Foundry Co (A1501)
Precision Metalsmiths Inc
Premier Aluminum LLC
Rel Inc
Roloff Manufacturing Corp
Washburn Iron Works Inc
Waupaca Foundry Inc
Wisconsin Aluminum Foundry Co

Event Calendar
Chapter Meeting
04/06/15
Evaluating Safety in Foundries

Tom Gensch, Sales Engineer

Wisconsin Control Corporation

__________________



*Social hour, dinner and program will be held in

Marquette Ball Room A.




more info...

Foundry Tour
05/01/15 - 05/31/15
Foundry Tour

Aarrowcast Inc

Date (May) and time to be determined
more info...


Message Boards
Mobile App
For mobile app feedback and discussion.

to read the message boards and add your own entries, log-in to the members area.